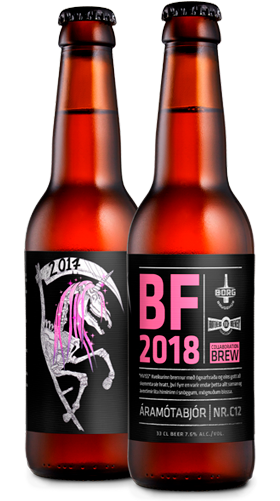 NR. C12 BF2018
7.6% alc./vol.
NEW YEAR'S EVE STYLE (NEW ENGLAND IPA)
BF2018, meaning Best before 2018, is a New England India Pale Ale, a smoother kind of IPA than the ones most people are familiar with, hazy and fresh with a fruity aroma and the name is no joke, as the beer only has a shelf life of three weeks after bottling.
BF2018 is Borg's special New Year's Eve beer, brewed this year in collaboration with The Brothers Brewery in Vestmannaeyjar. Illustration by Perla Kristins.
---
Ingredients: Water, malted barley, malted wheat, oats, hops and yeast.