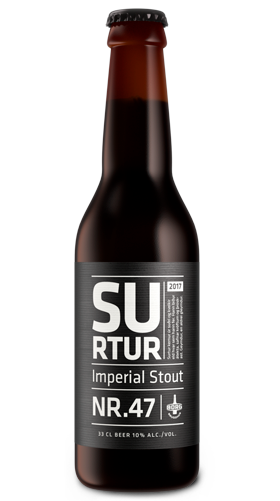 NR. 47 SURTUR
10% alc./vol.
IMPERIAL STOUT
Surtur is a force to be reckoned with. Under the tanned creamy head, shades of fire roasted corn and burned sugar blend mysteriously with darker tones of chocolate, licorice, and strong coffee roasted by our friends at Te & kaffi.
Surtur is named after Surtr (Old Norse for "black" or "the swarthy one") a devil giant in Norse mythology foretold as being a major figure during the events of Ragnarök.
Ingredients: Pure Icelandic water, malted barley, malted wheat, coffee, hops and yeast.